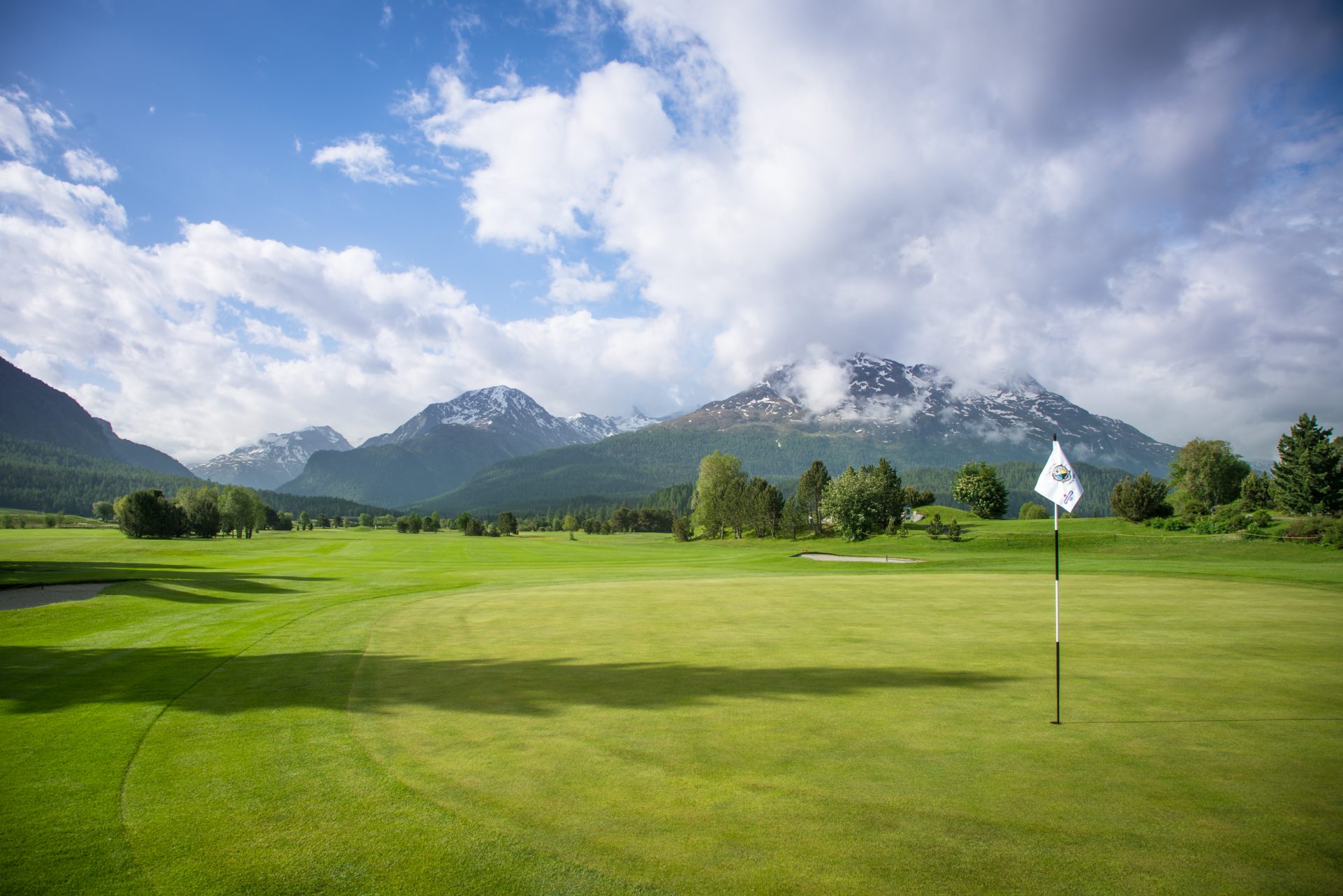 Swiss Alps: golf at the top of Europe
When Tiger Woods left Scotland after The Open, he headed to the Swiss Alps and the Engadine Valley for a little R&R. But he didn't bring his golf clubs. No golf? That's a big miss if ever there was one. But there's more. Let's look at all the things Tiger was missing out on.
Summer encounters in the Alps… how to ease between @TheOpen and the @WGC_Bridgestone? Ask @TigerWoods… fresh air and fishing 🎣 @stmoritz_ch @Kulm_Hotel ⛰@PGATOUR pic.twitter.com/l4WyD3Wc9v

— silvia audisio (@SilviaAudisio) August 1, 2018
Swiss Alps golf starts like a Harry Potter movie
Tiger would obviously never take a train anywhere when he has SUV limos at his beck and call – so that was the first thing he missed out on in the Swiss Alps. The Best Escapes were invited by MySwitzerland on a spectacular train ride from Zürich to St. Moritz, on a train that chugs up into the Alps, over dramatically steep gorges and carves its way into the  snowclad mountainsides. This Swiss train ride into the Engadine Valley in the canton of Graubünden is on Unesco's World Heritage List. The trip induces more than a few oohs, aahs and even some gasps.
Moving pictures of Landwasser Viaduct near Filisur on the UNESCO listed train ride to St. Moritz #switzerland @stmoritz_ch @engadingolf Rivals the Hogwarts Express, methinks. #golftravel #swissalps #stmoritz pic.twitter.com/yBKyWuGCxD

— GolfVisuals (@kaiame) June 10, 2018
Tiger Woods stayed at the Kulm Hotel at St. Moritz, the most famous and prestigious hotel in the historic Alpine resort in the most southeastern part of Switzerland. No 'missing out' there, we have to admit. But you don't have to shell out to the max to get a beautiful view and good service. We stayed at the Albana Hotel in Silvaplana, just outside of St. Moritz.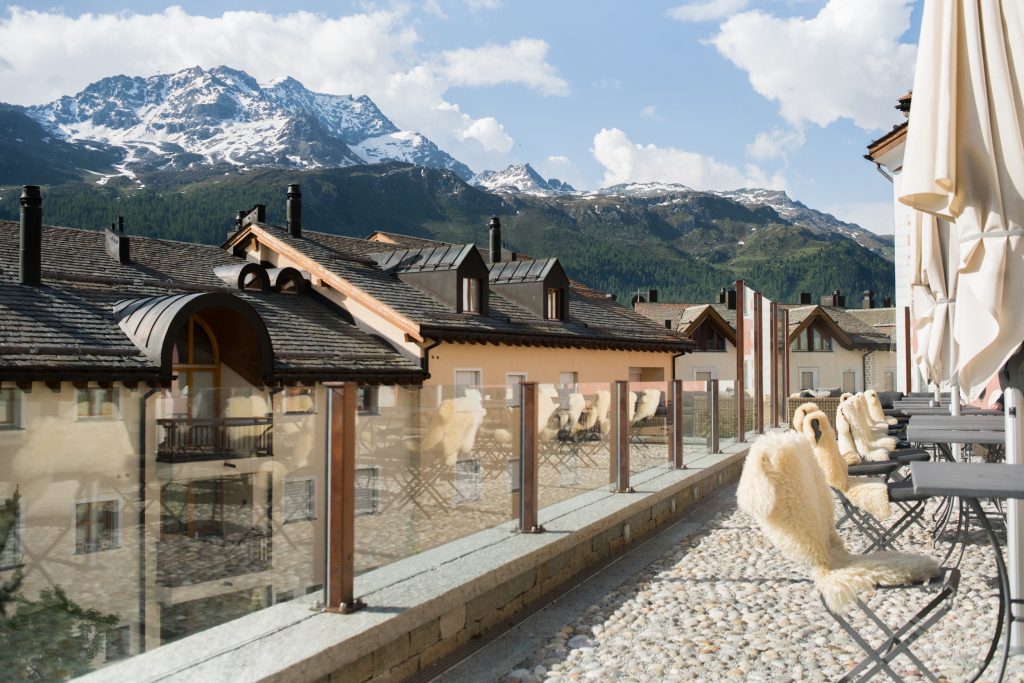 Tiger probably wasn't offered a sizzling, authentic Thai buffet at the Kulm. At Albana, we could watch the Thai chefs preparing the food at the open kitchen in the restaurant. And for a highly memorable meal of both fondue AND raclette in one sitting (my Swiss contacts tell me combining the two heavy dishes consisting of melted Swiss cheese in one meal could by purists be considered 'perverted') we went to a converted gondola at the Hotel Walther. For local Romansch fare (minority in Switzerland who speak a language similar to Italian), you will be hard pressed to find a better spot than Hotel Restaurant Central in Samedan. Romansch ravioli is the best ever.
Alpine golf in Switzerland
Alpine golf is an Engadine tradition. Still, there was no report of Tiger playing golf on his vacation in the Swiss Alps. Ever since St. Moritz started attracting the elites of European society to the region, golf has been a major activity, along with walking, horseback riding, fishing and eating melted cheese. Today, more exciting activities are experiencing a Swiss surge, like mountain biking, paragliding and river rafting.
The Engadine Golf Club surmised that golf addiction is a factor at The Best Escapes, and of course, we were thrilled to be invited to bring our 14 sticks for the traditional leisure activity of St. Moritz. The Kulm Hotel, where Tiger stayed, has its very own 9-hole course. More importantly, Engadine Golf Club – with two 18-hole courses very near to St. Moritz – celebrated its 125th birthday this very month.
The oldest 18-hole course – not only in the valley, but in all of Switzerland – is the Samedan course.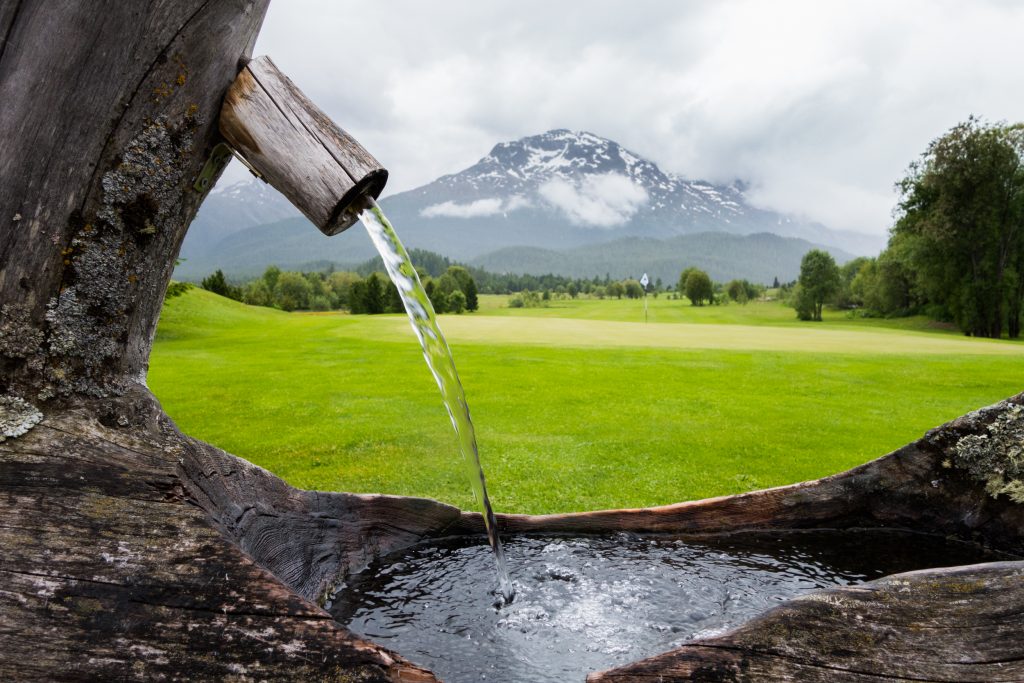 It's not pronounced as you might think. Actually, you can choose between two pronunciations. It seems the locals are in two camps on this. The first camp says "sah-MAY-dun." The opposing group, refusing to notice the 'e', says "sah-MAH-dun." I failed to learn whether the opposing camps foster animosity toward each other, splitting families, etc. I landed on "sah-MAY-dun".
A rose by any other name would smell as sweet. The same goes for golf courses. Playing Samedan was like playing inside a 125-year-old postcard. The course is at the bottom of the valley, where it meanders through parkland and various water hazards. This is the course where the first 18-hole golf tournament in Switzerland was held in 1893, a mixed foursomes format. The players were all foreigners, mostly from Britain.
"Playing Samedan was like playing inside a 125-year-old postcard"
Samedan feels almost like a classic Scottish links course, although it's been upgraded and modernized several times throughout the years. The undulations are subtle, and the next tee is always just a short stride from the previous green.
But it's impossible not to be reminded on every hole that you are in the majestic Alps of Switzerland.
Ancient larch trees – some of them are 700 years old – tower next to many of the greens, making you almost want to stop playing and bring out your watercolors so you can send a self-made postcard to the clan back home.
Luckily, we can skip setting up the easel these days, instead snapping a phone shot for Instagram.
Engadine Golf Club's Zuoz-Madulain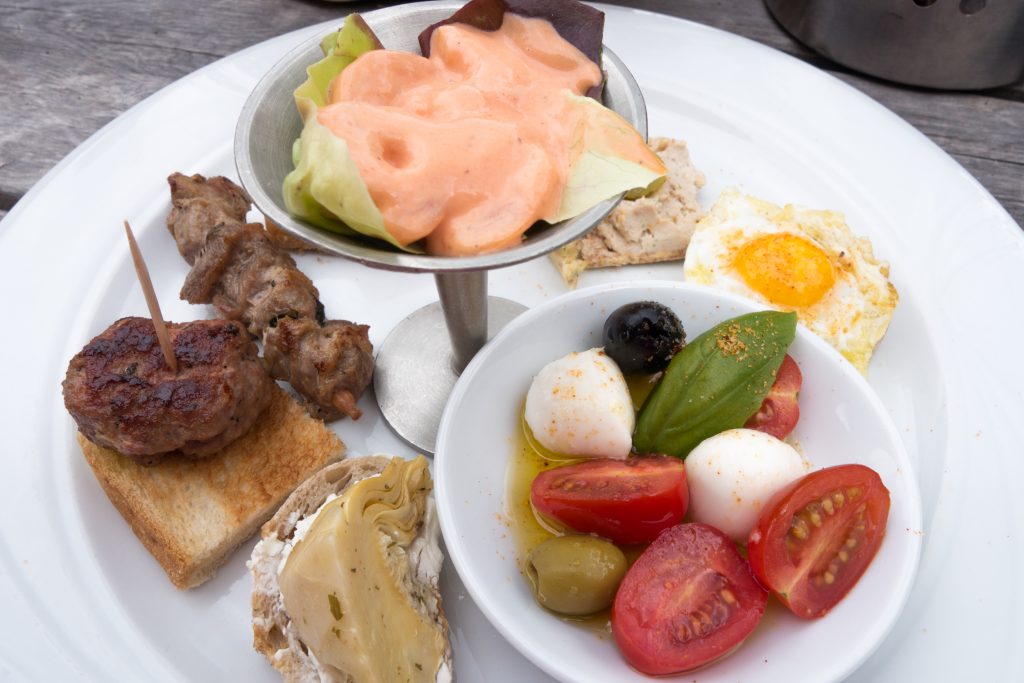 The newest course in Engadine Golf Club is further down in the valley. It's called Zuoz-Madulain, designed by Canadian Les Furber. It opened in 2003. Zuoz is more of a true mountain course, where you're confronted by steep terrain, and have to play with it – or against it – during your round.
The result is that the holes are very different from Samedan, with several tees far above fairways and greens. This is a course not just built near the mountains, it is built using the mountains as foundation and raw materials.
Here, the Swiss Alps have been modified for the pleasure of golfers. Maybe next time, Tiger.
---
We were able to report on Swiss Alps golf thanks to complimentary flights from Swiss International Air Lines, who fly from numerous European cities to Zürich.